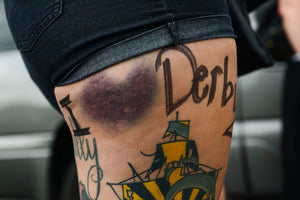 The Chicago Outfit: Through the Eyes of Photographer Eileen T. Meslar
Photos and Text by Eileen T. Meslar
(Originally appeared in Blood & Thunder Magazine, 2016)
The Chicago Outfit is a flat-track roller derby league formed in 2007 and based in Chicago. The Outfit has 3 different teams based on skill level. The main travel team, the Syndicate, competes in the Women's Flat Track Derby Association (WFTDA). The secondary travel team, the Shade Brigade, does not compete in WFTDA, but they travel with the Syndicate to various away bouts, and the Shakedown is the Outfit team encompassing new skaters. The Outfit practices four times a week at Fleetwood Roller Rink in Summit, Illinois, and during the season has several home bouts at Windy City Fieldhouse in Chicago.
In the 2015 season, the Outfit performed so well in their WFTDA bouts and Division 2 Playoffs that they moved up in rank, becoming the top-ranked roller derby team in Illinois. The Outfit prides itself on creating an environment where dedicated, hard-working athletes can skate competitively and support each other, and have fun while doing it. Unlike teams in other roller derby leagues, the tight-knit Outfit teams never bout against each other, which further reinforces the family culture the Outfit has been cultivating. "They are some of my closest friends. We literally shed blood, sweat, and tears together. I see these girls more than I see most of my family, but after 2-3 days a week of beating up one another we turn into family." ~ Lady K
Cover photo: Lady K (Kelly Mikols) the morning of the Outfit's third and final bout of the WFTDA Division 2 Playoffs in Detroit on August 30, 2015.

chicagooutfitrollerderby.com
facebook.com/TheChicagoOutfit
---