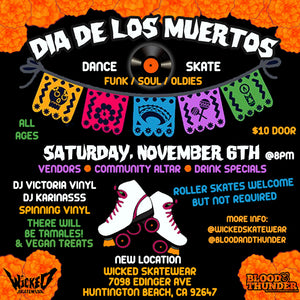 DIA DE LOS MUERTOS DANCE PARTY!
Come party (on skates or off!) with us at our Dia de los Muertos celebration!

Date and time
Sat, Nov 6, 2021, 8:00 PM
Location
Wicked Skatewear
7098 Edinger Avenue
Huntington Beach, CA 92647
Wicked Skatewear and Blood & Thunder invite you to come have a drink, enjoy the skate dance floor, contribute to the community altar and enjoy the sweet tunes of DJ Victoria Vinyl and DJ Karinasss spinning soul, funk and oldies all night!
Dia de los Muertos is a Mexican holiday meant to honor the dead. Traditionally celebrated on November 1 and 2, it is the one day the souls of our lost loved ones return to earth and it's our job to welcome them properly. Though it coincides with the Catholic All Saints Day, Dia de los Muertos has its own Indigenous roots.
Most homes prepare ofrendas, or altars, full of flowers, food, sweets, alcohol, sugar skulls and trinkets to welcome the dead back home. They're only back for a day, so we've got to make it special. Once the celebration is over, families will travel to the cemetery (if they're not there already) to clean and decorate the tombs of the people they miss.
It's easy to get wrapped up in the cloud of grief when you lose someone so dear to you, but it's important to remember that Dia de los Muertos is a celebration of LIFE! The life the spirits lived and the life you are living that your ancestors are overseeing. Keep them happy by honoring them!
There's a lot of loss to remember over the past two years. It's time to remember who we've lost. And have a good time in their honor.
Light a candle or bring a photo for the community altar, have a drink (or several) and skate it out with your friends on the dancefloor. Skates optional.
---